Medeco – The Name to Ask for in High Security
Medeco locks are made with pride in the U.S.A. For more than 40 years, Medeco has led the security industry in innovation and quality, guarding lives and assets at facilities worldwide.
Medeco locks protect government and military installations, both locally and abroad, schools and universities, hospitals and banks, vending machines and parking meters, homes and offices, and much, much more.
Founded in 1968, Medeco is a market leader in locks and locking systems for security, safety, and control. The company's customer base includes wholesale and retail security providers, original equipment manufacturers, institutional, commercial, industrial, and residential end-users.   
When you need high security protection, don't rely on an ordinary lock –  ask for Medeco! Visit the Medeco website or view their Door Security PDF catalog HERE.  Our factory trained and licensed locksmiths are experts in Medeco lock installations.  *A-Line Locksmiths sells the original Medeco, Biaxial Medeco and also Medeco³.

Medeco³ Means Security
Medeco High Security Locks offers a complete line of proven security solutions and the best value-added services in the industry. As the industry leader and the trusted source for the highest quality pick, drill, and bump resistant locks and patented keys for over 40 years, Medeco offers an array of products to meet multiple security demands. Medeco's users require security designed to adapt to changing situations and needs. Medeco's products offer maximum flexibility without sacrificing security and control. 
Click HERE for a PDF brochure on the Medeco³.
Medeco Maxum Deadbolts
Exceeds ANSI Grade 1 standard for auxiliary locks. Solid brass, free turning collar and 1/4 inch diameter mounting bolts resist wrenching, prying and hammering attacks. 1 inch throw hardened steel bolt resists sawing and crowbar attacks. Hardened steel inserts and rotating pins provide drill and pick resistance according to UL 437 standard. The Medeco3® design offers a utility patent that provides protection against unauthorized key duplication.
Click
HERE
for more information.
Medeco Mortise Cylinders
All locks are not created equal. Medeco® cylinders provide a high degree of security by incorporating special design features inside each cylinder. Medeco cylinders offer superior pick resistance, are virtually bump proof, offer excellent resistance against drilling and other forced attacks, large number of combinations and a utility patent to protect against unauthorized key duplication.
Pick & Bump Attack Resistance

Drilling Resistance

Unauthorized Duplication
Click HERE for more information.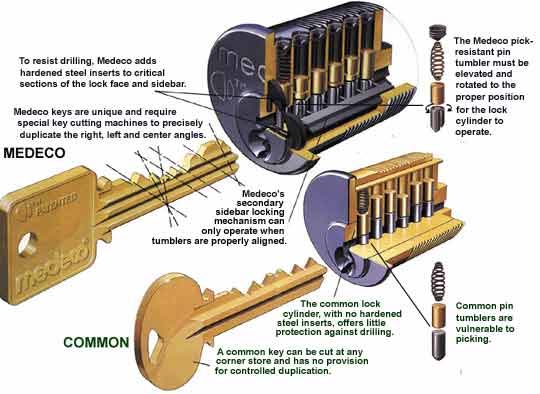 Locksmith serving Vancouver, Richmond, Burnaby, Delta, New West and Surrey for over twenty five years.