Weiser is a recognized leader in innovation and product development providing high quality Fashion Doorware™ and offering a variety of solutions for both consumers and dealers.
Leader in Innovation and Product Development
Throughout our history, Weiser has consistently demonstrated its ability to provide solutions to consumers' need for products that express their lifestyle. Weiser has introduced many innovative products to the marketplace in the past decade including the Brilliance Anti-Tarnish finish, the Powerbolt Keyless Home Access System and Collections by Weiser.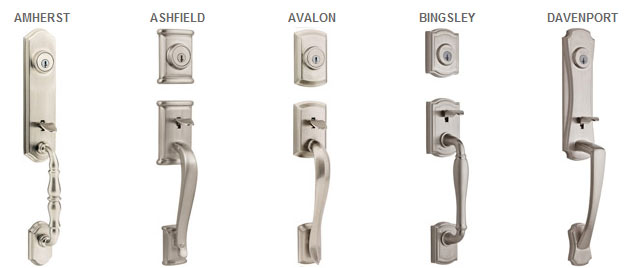 High Quality Fashion Doorware
Quality and security are an integral part of every product. Knowing that all Weiser products will function properly and provide the added protection and security you expect, allows you to choose from a number of stylish products with confidence. After all, we've been doing this for over 100 years. Although times and styles have changed, Weiser is right there keeping a finger on the pulse of consumers' needs. We are committed to continuously introducing new styles and finishes that fit the needs of today's changing lifestyles and fashion trends
Variety of Solutions
At Weiser, we know that one product line will not fit every consumers' needs. That's why we offer several different lines of Fashion Doorware™ products with varying features and price points. Every line features a selection of Decorator Finishes™.
The Elements Series® provides an expanded choice of styles and finishes of Fashion Doorware™ providing an upgraded look at an affordable price.
Our most popular line, the Welcome Home Series®, features a wide range of style, finish and function choices with many product features that allow you to match your individual needs to the many options available.

For those who desire only the best, Collections by Weiser™ is our finest line of door hardware ever.
If you are looking for convenience, our Electronic Keyless Home Access System products are the perfect solution. These products offer the latest in electronic technology and permit home access with a personalized security code. Now your kids or even service personnel can access your home without the hassle of duplicate keys.
So whether you're looking for low price, unique style, wide selection or simple convenience, Weiser has the product to meet your needs and complement your lifestyle. Our government licensed locksmiths can install any Weiser lock products for you!
Visit the Weiser Lock website to view their entire product line.
Locksmith serving Vancouver, Richmond, Burnaby, Delta, New West and Surrey for over twenty five years.