Mul-T-Lock Ltd. is a worldwide leader in developing, manufacturing and marketing High Security products for institutional, commercial, industrial, residential and automotive applications.  Our product range includes mechanical cylinders, locks and padlocks, electromechanical locking systems and automatic assembly and key-cutting machines.
Mul-T-Lock High Security Deadbolt
High Security deadbolt system for commercial and residential doors.
View PDF catalog HERE.
Mul-T-Lock Cylinders
Mul-T-Lock® manufactures a wide range of cylinders that addresses the ever-increasing security needs of institutions, businesses and homeowners worldwide.
Produced with high quality materials, our cylinders are built for doors, cabinets, drawers, vending machines and other security applications.
Meeting some of the world's extremely demanding international standards and dedicated to making patented key control a high priority, Mul-T-Lock cylinders have been chosen by millions of customers in nearly 100 countries who seek a truly excellent High Security solution.
Mul-T-Lock cylinders retrofit into the locksets of many of the world's leading manufacturers including: ASSA®, Miwa®, Schlage®, Weiser®, Fichet®, Vachette®.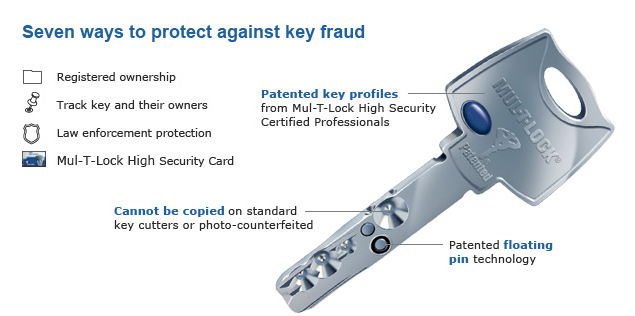 To learn more about the Mul-T-Lock High Security product line, please visit their website.
Rely on Mul-T-Lock High Security Certified Professionals
All our providers are authorized dealers and have met our quality standards. Certified Professionals have met higher qualifications. We conduct extensive background checks and then monitor their performance to ensure that our highest security standards are met
The Mul-T-Lock High Security Certified Professional logo indicates that the locksmith:
Follows strict security measures
Has completed extensive product training
Conforms to legal requirements
Dedicated to customer satisfaction
Guarantees their worksmanship
Choose your locksmith carefully!
Review references: friends, family, fire stations, security firms, construction firms, on-line reviews
Check for professional certification
Check for government license
Confirm the locksmith is an established business
Ensure your locksmith conducts background checks on employees
Locksmith serving Vancouver, Richmond, Burnaby, Delta, New West and Surrey for over twenty five years.